Høgevard - 1459 meters above sea level
The Høgevarde peak has the best view of Eastern Norway, apart from Gaustatoppen.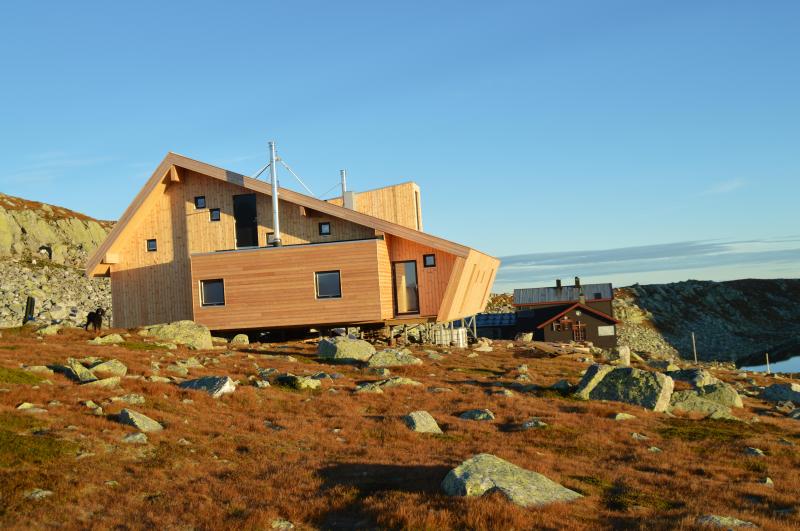 Hike info:
On a clear day, you can glimpse Høgronden, Gjendealpene (the Gjende Alps) between Bygdin and Gjende as well as Jotunheimtinder, Hardangerjøkulen and Høyåsen by Halden.
The hike to Høgevarde can either start from Tempelseter in Eggedal, Norefjellstua by the ski centre at Norefjell or from Gulsviksætran and Toveseter. If your starting point is Toveseter, you will need to walk there first. The hikes from Tempelseter and Norefjellstua are the most popular and are described here. If you have children with you, we recommend starting from Tempelseter.
From Tempelseter: Follow the dirt road on the north side of the car park and onto the trail. The trail ascends quite steeply from this point. It then continues all the way to the Høgevarde self-service cabin. The hike to the cabin takes about 2.5 hours and a bit longer if you have children with you. The actual summit is to the north of the cabin on the other side of the lake, a 20 minute walk from the cabin. The return journey to Tempelseter is back along the same trail.
From Norefjellstua by the ski centre at Norefjell: Starting at Norefjellstua, the trail gradually ascends towards Ravnås, which you pass on the left-hand side, and then continues up to Augunshaug. This is followed by a slight ascent over Norefjellryggen to the Høgevarde cabin. There is little access to water along this trail so remember to take water with you. The return journey to Norefjellstua is back along the same trail.
Tips! If you'd like to spend more time in the outdoors, you could add an overnight stay at the Høgevarde self-service cabin. The cabin is locked with the standard key, issued by the Norwegian Trekking Association (DNT).
Transport: By car to the above-mentioned starting points.
Map: Hiking map for Norefjell and Eggedal, with a scale of 1:50 000, published by Ugland It Group AS.
Approximate duration: 7 hours
Season: June–October
Distance: 11.3 km
Estimated height gain in metres: 680.
Height at the summit: 1459 metres above sea level
Road toll: NOK 50.00 Follow the parking instructions at the toll gate 
Access/Parking:
From Noresund follow the signs to Norefjellstua.