Nastadborgen
Nastadborgen is a re-creation of castle and palace culture from the 12th to the 18th century. The castle offers a journey through European history, architecture, art and various styles. Closed for the season, see you next year.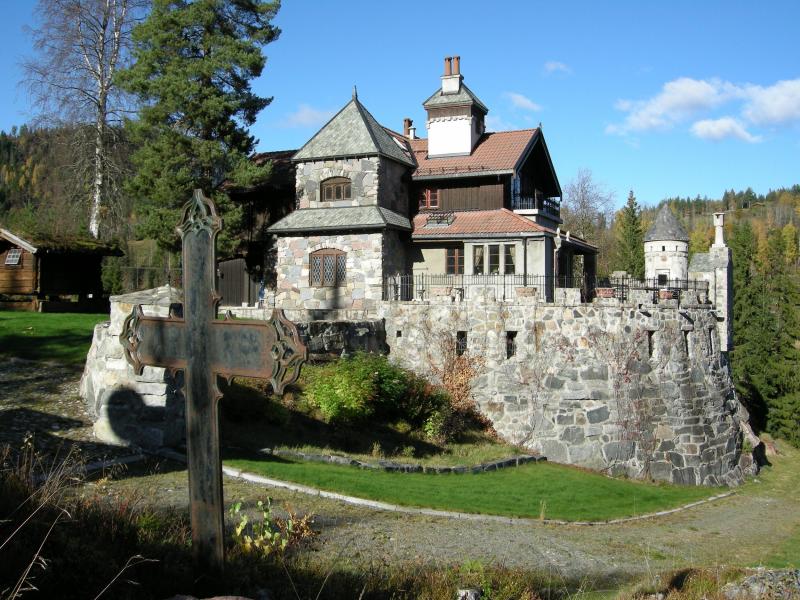 Nastadborgen was built by Svein Yngvar Dynge, although King Frederik IV of Denmark and Norway is regarded as Nastadborgen's historical founder.
Guided tours
Visit Nastadborgen and enjoy a journey back to the Middle Ages. The guided tour lasts for about 1 hour If you would like a more detailed guided tour, it is possible to book a private tour with the lord of the castle, Svein Yngvar Dynge. The tour lasts two hours.
All guided tours are arranged by Visit Sigdal, which organises groups of up to 12 persons. Guided tours take place on Wednesdays, Saturdays and Sundays at 11:00, 13:00 and 15:00, between 17 July and 21 August. After the tour, there will be an opportunity to purchase food and drink, which can be enjoyed on the castle roof. 
All bookings must be received by Visit Sigdal AS by 15:00 on the previous day.
Private lunches
Private lunches can be organised on Fridays for groups/parties. The lunch includes a guided tour, as well as a tasty meal and drink. A menu can be provided in advance upon request. The total duration is about 4 hours Groups/companies must comprise a minimum of 10 persons and a maximum of 16 persons. The event starts with a guided tour and continues with a meal in the castle hall. During the meal, the guide will describe the hall's historical contents.
Practical information
Parking: Private cars must park beneath the mediaeval bridge by Vestbygdveien (road). Please allow sufficient time to walk to the castle. If a guest has mobility issues, they can be dropped off at the castle and the car can then be parked by the bridge. 
Accessibility: Due to the castle's mediaeval building style, there will be limited access for wheelchair users. All movement in and around the castle is at own responsibility. Please contact Visit Sigdal for further information. The guided tour is not suitable for small children.
Toilet: A mobile toilet is located at the castle's works building.
Prices
Adult ticket: 

NOK 250,- 

Child under 10 years: 

NOK 150,- 

Groups over 8 persons: 

NOK 200,- per person

Private guided tour lasting two hours:

Prisce upon request

Private lunches: 

Price upon request and will depend on the number of persons

 
Bookings
Booking should be directed to Visit Sigdal AS. Terms of payment will also be agreed. When booking, please submit name, desired date and number of persons.
All bookings must be received by Visit Sigdal AS by 15:00 on the previous day.
Telephone: +47 32 71 48 08/46 84 55 06
Email: post@visitsigdal.no
Address: Eggedalsveien 1485, 3359 Eggedal
The Harald and Margit Dynge foundation welcomes you to Nastadborgen
How to get there: From Eggedal town centre, take the county road 287 in a north-westerly direction until you see a sign for Vestbygda. Turn off here and follow the road for about 3 km until you see a mediaeval bridge. Here you can park in the Borgplassen car park.