Lauvlia in Sigdal
The home of artist Theodor Kittelsen in Sigdal. Something for the whole family. Popular art for both children and adults. Activities, guided tours and refreshments. Closed for the season, see you next year.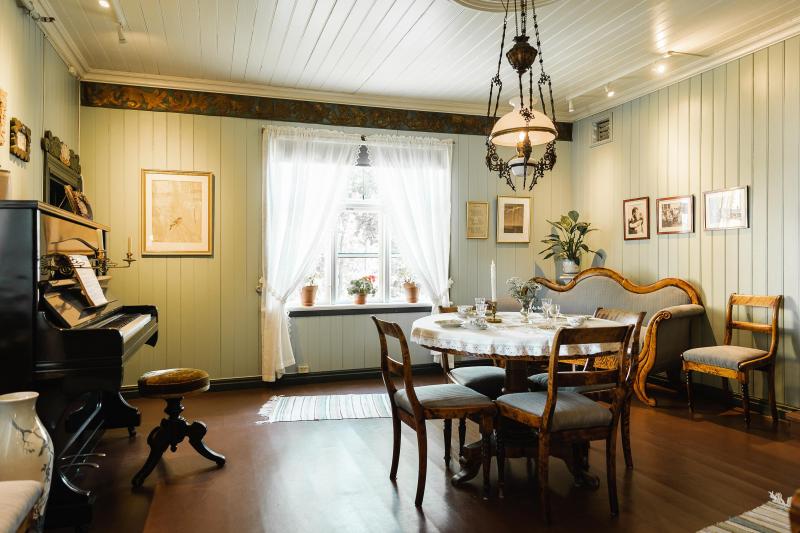 Welcome to idyllic Lauvlia
Like an oasis, the artist's home is ready to welcome its visitors. Lauvlia has much to offer: cultural history, art history, beautiful pictures and exciting stories about life around 100 years ago. What was it like for these artists to move out into the country? How did they make a living and what did they create? They brought with them a sense of the outside world and their way of life was untraditional, compared to their neighbours. Their eating and drinking habits were different but they were still well received by the local community. How did they furnish their houses and what was it like to be the family of a famous artist? Lauvlia will provide you with answers to all of these questions.
Be creative like Theodor Kittelsen
With an artist's smock and their own easel, the children can feel like a real artist when they visit Barnas Hus in Lauvlia. They can also make their own toys, dress up, draw and read books. Walk along the children's path for a journey of discovery in Kittelsen's wonderland and explore the troll amphitheatre.
Opening hours:
20 May–24 September,
Saturdays and Sundays 11:00–17:00.
Opening of this year's theme exhibition on Sunday 11 June.
17 June–20 August
Every day 11:00–17:00
Guided tours every hour between11:00–16:00
For group bookings on weekdays, please phone + 47 32 71 24 07 or send an email to post@lauvlia.no
Ticket prices:
Adult ticket: NOK 130
Adult ticket (groups of 15 people or more): NOK 100
Child ticket: NOK 80
Family tickets (two adults and two children): NOK 370
Outside the season, groups comprising a minimum of 5–15 persons, NOK 150 per person. Bookings must be made in advance.
All visitors to Lauvlia will receive a personal guided tour of the home. During your visit to the art exhibition, you are also a guest in the Kittelsen family home.
Enter the family's inner sanctum, imagine the artist in his studio, the children in the school room or spending an evening with the artist's friends in his living room.
The guide will tell you about both the stories and the atmosphere of the era and, not least, about Kittelsen's art.
The guides at Lauvlia are wearing their special costumes, which were made for the opening in 1995. The costume is inspired by the national dress that was used in Sigdal 100 years ago and by Kittelsen's painting "Grautkjerringer" from 1904.