Norefjell Ski Centre
The slopes of Norefjell Ski Centre offer Northern Europe's greatest overall vertical drop, spanning from an altitude of 1,188 m at the top of our highest lift right down to 178 m at the foot of the slopes.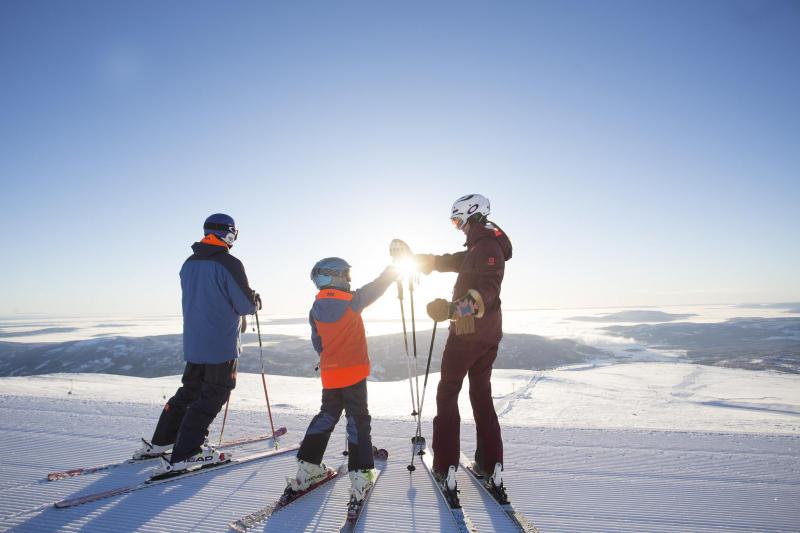 Whether you are an expert or a beginner, with 14 lifts and 30 slopes and trails, you are sure to enjoy fantastic skiing. At Norefjell, we also offer fun activities and great experiences for the whole family. Our ski hire and ski shops are packed with high-quality equipment, and our ski school helps skiers of all ages and abilities improve their skills. And when you need to replenish your energy, you can ski right in to one of our restaurants.
SEASON PASS
A season pass at Norefjell gives you the freedom to go skiing whenever you like, go straight to the lift, avoid the queues and enjoy other great benefits:
Unlimited skiing days at Norefjell
10 per cent discount in our shops (Norefjell Ski & Spa and Skistua)
10 per cent discount on food and drink at Skistua (excludes alcoholic drinks)
10 per cent discount on ski prep
10 per cent discount on ski hire
10 per cent discount on entry to Velvære Spa at Norefjell Ski & Spa (Monday–Friday)
10 per cent discount at Matbaren [JC2] at Norefjell Ski & Spa (excludes alcoholic drinks)
Buy season pass
BUY YOUR SKI PASS ON THE MOUNTAIN
The ski pass machines are located:
At the entrance on the lower side of Skistua (next to the ski shop)
In the reception area at Norefjell Ski & Spa
At the exit to the slopes on Level U1 at Norefjell Ski & Spa
In addition, you can purchase ski passes from our ski shops and from the outlet in Dalbunnen. On some weekends and public holidays, you can also purchase ski passes outside Matbaren on the ground floor of Norefjell Ski & Spa.
SKI SLOPES AND WEATHER CONDITIONS
At Norefjell, we work to create memorable experiences – our goal is quite simply to be a winter amusement park. That's why we have placed great emphasis on creating places where the whole family can play together, interact and develop their skiing skills.
Norefjell has three children's areas with play equipment, moguls, jumps and much more fun stuff. The children's areas are laid out in a way that stimulates turning and braking, helping the children develop their abilities.
Norefjell also has two terrain parks. One is located near Bøseter and has two lines with different levels of difficulty and a combination of rails, moguls and jumps. There are also three lines in the central area of the main park – beginner, intermediate and advanced – plus jumps and rails, ski cross, wallride and other fun elements.
The ski cross area at Norefjell is under the Fjellekspressen and has multiple turns and moguls. Both children and adults love to race down the course for fun.
We have set up a speedometer at the bottom of the park, where you can measure your speed in a safe environment. Who is the fastest skier in the family?
If you want to race against time on a course with gates, we have two self-timers: the self-timer at Tosetern is parallel, so you can race each other, and the self-timer at Øvre Bøseter is on a single track.
At Norefjell the children can meet Nore Rein, Norefjell's own mascot. Nore Rein was born and raised at Norefjell, skiing right from the moment he was born. He loves to ski with children and feels most at home on the child-friendly slopes. He also takes part in activities at Norefjell Ski & Spa, and can often be found in reception during check-in and check-out.