Villa Fridheim
Visit one of Norway's largest and best-preserved Swiss-style villas, built as a country home in 1892 by timber merchant Svend Haug. Closed for the season, see you next year.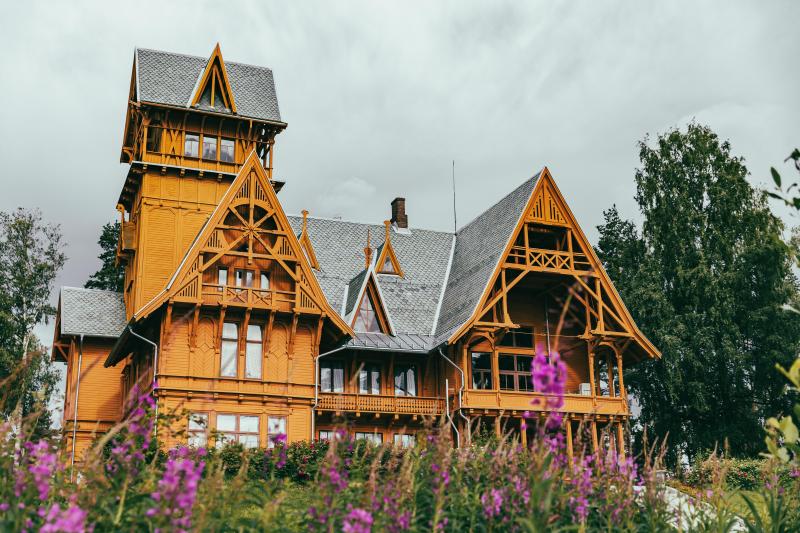 The villa is situated on the island of Bjørøya, in the middle of Krøderfjord and with its 30-metre-high tower, it resembles a castle. At the very last moment, the villa was saved from being burned down as part of a training exercise in 1980. The villa was restored and is now listed. It contains a folklore museum, among other things.
As well as the beautiful villa and its unique architecture, we take care of our intangible cultural heritage with particular focus on folktales and stories. Exhibitions, concerts and events all help to emphasise our social mission and the magical experience you will have when you visit Villa Fridheim.
The basement contains an exhibition about the people who collected, told and illustrated the stories. The impressive hall is decorated with large paintings by Egil Thorin Næsheim. Fairytale scenes by doll maker Ingebjørg Andersen Lithell can be viewed on several floors.
A new art exhibition is held every year at Villa Fridheim.
Villa Fridheim museum – for both the young and old
The old Swiss-style villa, Villa Fridheim, is an adventure in itself – for the whole family. Here you can view the beautiful fairy tale paintings and scenes made by doll maker Ingebjørg Andersen Lithell. Maybe you will also see some trolls?
The house has been used in several Norwegian TV and film productions.
Villa Fridheim is a popular venue for weddings and parties. Its large halls, living rooms and beautiful gardens, with a view of Krøderfjord, provide a magical backdrop to such events.
Fru Thea's café, the museum shop, second-hand loft, outdoor amphitheatre, children's toys, storytelling.
Villa Fridheim is also available out of season for groups and parties upon prior agreement.
Opening hours
10 June–13 August
Mondays–Fridays: 11:00–16:00
Saturdays: 10:00–15:00
Sundays: 12:00–17:00
Also open during weekends for the rest of August
Ticket prices:
Adult ticket: NOK 100
Child ticket (4–12 years): NOK 50
School groups NOK 40
Groups over 20 persons: NOK 80
Canoe rental
Rent a canoe at Villa Fridheim and enjoy the beautiful surroundings from Krøderfjord! Canoes can be rented on both an hourly and daily basis and life jackets can be borrowed if you don't have your own.
Enjoy Krødsherad from a canoe on Krøderfjord. Maybe visit one of the beautiful bathing spots.
Prices:
Per hour: NOK 100
Per day: NOK 500