Zipline at the Vikersund ski jump
Now you can also fly down the world's largest ski jump! The zipline in Vikersund is closed for the season, see you next year.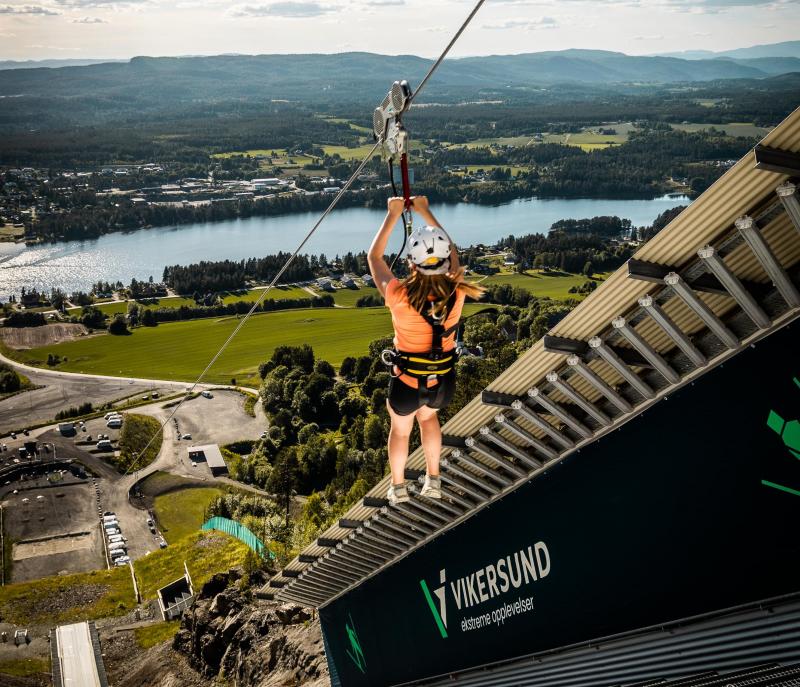 The zipline in Vikersund is open.
Ski flying is an extreme sport. Now you have the opportunity to experience a sense of flying down the world's largest ski jump
100 km/h
38.5-degree incline
Height difference of 200 metres over a distance of 540 metres!
These are the figures for the extreme zip line on the world's largest ski jump.
Is this something that might appeal to you adrenaline junkies? If so, then we strongly recommend that you visit Vikersund this summer.
Vikersund Hoppsenter
Vikersund is known for having the largest ski jump in the world, with a world record of no less than 253.5 metres.
Extreme adventure for everyone:
The zipline at Vikersund ski jump was the first extreme signature activity – and opened in the summer of 2021. The centre has a five-year plan with the goal of offering several new extreme adventures for all ages.
As well as the zipline, other activities are available for children and young persons in the area around the ski jump.
In addition to its main activity of ski jumping, the centre is being developed into a venue for sport and leisure activities. The centre attracts hundreds of young persons who attend football, handball and volleyball training.
Many people use the area for hiking and keeping fit, often combined with a visit to the café.
We wish you a warm welcome to Vikersund Ekstremsportsenter!