Olympique
Welcome to a high end bistro, family place for a quick bite (amazing pizza´s), and your destination for after ski and drinks.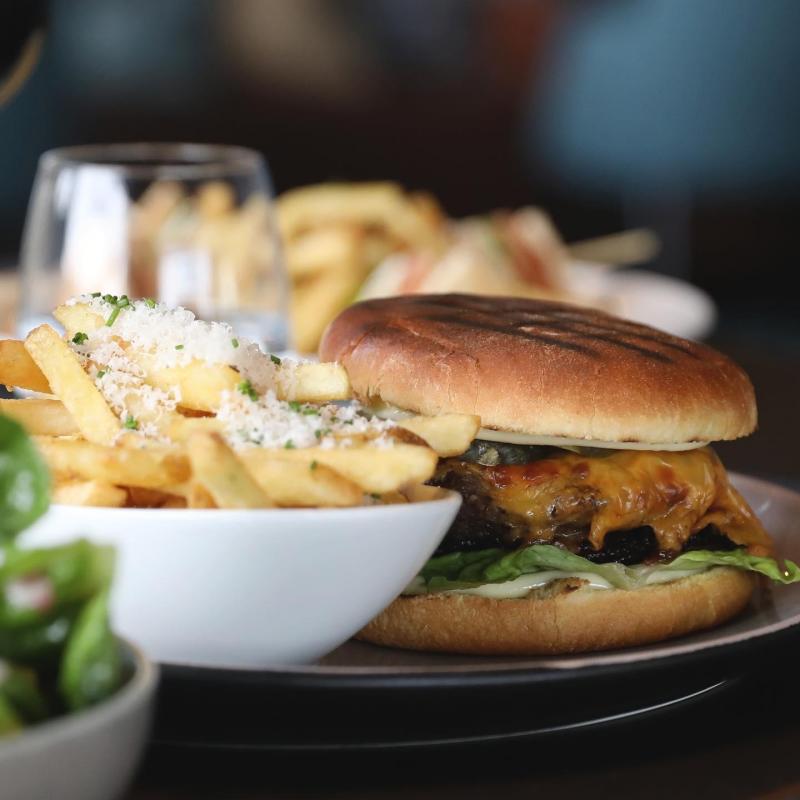 In February 2022, Olympique opened its doors in the middle of the alpine trail in Norefjell Ski Center. Olympique has exquisite design, an amazing view, serves tasty meals and has an impressive wine cellar. 
The name "Olympique" is a tribute to the Winter Olympics held in Oslo back in 1952. The world's best alpine skiers competed on the slopes at Norefjell.
Olympique is inspired by the bigger European alpine nations; there is something magical about the atmosphere and perhaps most of all the food in the Alps. 
And that's exactly what the people behind Olympique wants to bring to Norefjell. 
The restaurant is divided into three separate parts and concepts:
Pizzeria, lunch and after ski on ground floor
Downstairs you will find a lunch restaurant for those who want a quick lunch during the day. They serve pizza made by an Italian pizza chef, and stone baked. The ambition is simple; Olympique strives to serve the best pizza in the Norwegian mountains!
In addition, sandwiches with freshly baked bread and the soup of the day will be served.
On Saturdays and during holiday weeks, après-ski is adapted to a more grown up audience creating good atmosphere and with own dj.
Bar and lounge on first floor – a "destination within the destination"
A new social meeting place where you do not need to eat, but can have a glass of wine, a cocktail or something else that will taste you. Olympique focuses on quality wine throughout the house and can offer the mountain's most exciting cocktail menu. Simple snacks will be served at the bar.
Alpine bistro on the first floor – the "heart" of the restaurant
A welcoming and unique quality restaurant that offers something for every occasion. High end menu with a southern European twist. They focus on quality raw materials and take no shortcuts in the kitchen.
Opening hours:
Olympique is closed for the season, but we will reopen in the fall.
If you want to book the venue for events (summer parties, weddings, etc.) we can help you with this!
Events
Are you going to celebrate something or interested in exploring how you can connect Olympique to your event?
Olympique creates customized menus based on your wishes and budget. They make 3 course, 7 course or buffet.
They also do tailormade wine packages. 
Olympique has the possibility to adjust the capacity as needed, but basically, they have the following capacity in-house:
The restaurant downstairs has a capacity of 80 people, but is approved for 200 people.
The restaurant on the ground floor has capacity for 70 people, but can also be added more tables if needed.
The lounge with its unique view has capacity for 50 people today, but can and is adjusted upwards as needed. As an example, you can set up a "horseshoe" for weddings.
Their newly renovated terrace seats 80 people. 
 
Want to know more or book local? Connect to Ole and his team through post@olympique.no