Haglebu Fjellstue - Dining
Well known for its delicious, home-made food, Haglebu Fjellstue is absolutely central to the "Haglebu experience". All our dishes have a close relationship with the surrounding natural scenery and mountains.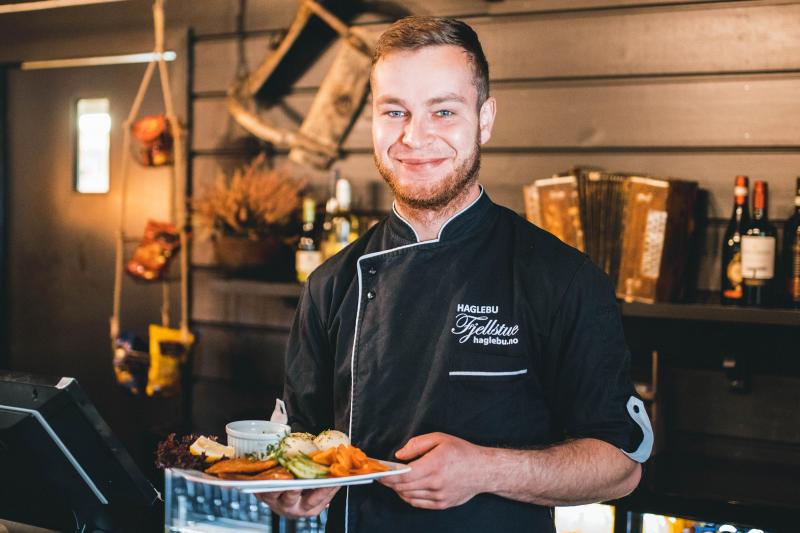 The hosts and staff at Haglebu Fjellstue are committed to ensuring that the food we serve is of the best quality and to giving you a superb dining experience.
For many years, we have prided ourselves on creating all the dishes in our own kitchens from scratch. The elk we serve is locally sourced. We portion, fillet, make stock, tie roasting joints – everything is done right here. We make our own meatballs and burgers, including our delicious and unique game burgers.
We are particularly proud of our renowned home-made porridge with sour cream, which is served from May to the end of September, and has quite a reputation. Indeed, many coach parties travelling through Sigdal stop off at Haglebu Fjellstue specifically to try our porridge.
In the summer, we serve local brown trout, accompanied by our very special cream sauce.
A great deal of our dishes have a close relationship with the surrounding natural scenery and mountains, and our goal is always to create a menu in keeping with our beautiful surroundings.
À la carte
Our cafeteria is open every day. You can order from our à la carte menu, including dinners, lunches and a wide range of pizzas.
Drinks
We are fully licensed, serving hot drinks, wine, beer and "long drinks".Parties
We can host parties of all sizes. With us, you have a range of options, from small, intimate rooms with a very special atmosphere to a spacious dining room for large groups.
Dining in the lavvo
Small dining parties can be accommodated in our lovely lavvo, which is ideal for enjoying cured meats or casseroles together.
Takeaway
We have an extensive takeaway menu, including pizzas and game stew.