Ringnes Gård
Elegant Ringnes Gård is located below Norefjell on the western shore of Lake Krøderen, 15 minutes from Noresund and eight minutes from the foot of the ski centre.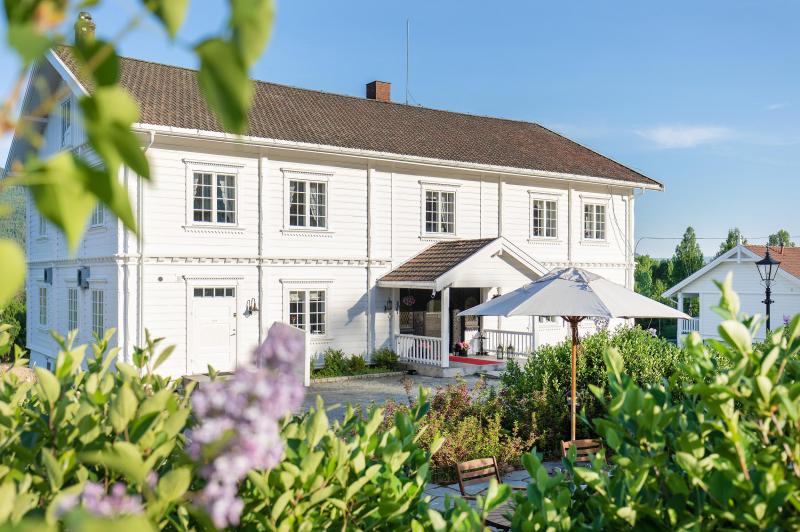 Your hosts Kenneth Kvam Tangen and Morten Leite offer a product where quality and personal service are the focus.
Ringnes Gård has 15 hotel rooms, 42 beds, a ballroom, a conference room, a pub, a sauna and a hot tub.
The hotel is perfect for courses and meetings, with conference rooms for 12 to 40 people – and when you need a break, our sitting room with fireplace is always available.
The hotel can accommodate events of all kinds, offering an elegant ballroom, a converted barn and a 17th-century storehouse, suitable for smaller parties.
Guests can be accommodated in the house itself or in the Thunestua or Rødstua buildings nearby, offering morning views of snowy fields or the lake bathed in summer sunshine.
By arrangement with Ringnes Bryggeri, their top-quality beers are available on tap. In combination with our local specialities and expert chefs, this makes meals at Ringnes an unforgettable experience.
We are proud to continue the long and unique history of Ringnes Gård, and look forward to welcoming you!
Winter 2021–2022
How about a rather different Christmas party? Experience a genuine country estate, steeped in history, with superb dining! Ringnes Gård is also an ideal location for kick-off meetings, courses, management meetings and the like.
Just five minutes from Ringnes Gård is one of the largest ski centres in Norway, Norefjell, which offers Northern Europe's greatest overall vertical drop – 1,010 m – spanning from an altitude of 1,188 m at the top of the highest lift right down to 178 m at the foot of the slopes. Whether you are an expert or a beginner, with 14 lifts and 30 slopes and trails, you are sure to enjoy fantastic skiing.