Eggedal Borgerstue
Eggedal Borgerstue is a small, family-run hotel with an intimate atmosphere. The building was originally an old coaching inn and has a long and fascinating history.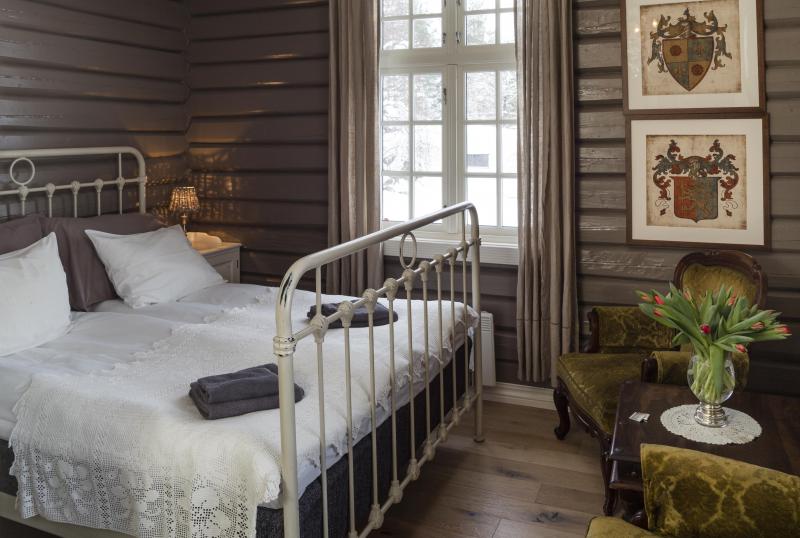 Now it offers overnight accommodation and dining, and has been run by the Koren Bøle family for more than half a century.
Eggedal Borgerstue is located in the centre of Viken, about a two-hour drive from Oslo. The hotel is set in the beautiful natural surroundings of the famous Valley of Artists, which inspired Christian Skredsvig and Theodor Kittelsen. Their former homes and the Blaafarveværket (Blue Colour Works) in Modum are well worth a visit and within easy reach of Eggedal.
Dining
We pride ourselves on giving our guests personal service and good home cooking, especially traditional dishes from Sigdal and Eggedal.
Borgerstua is open for lunch and evening meals every day. Always on the menu are porridge with sour cream, Madonna burgers, elk burgers, fillet steak, our own home-made pizzas and much, much more. You may wish to book a table if your party is large, but otherwise just drop in – we look forward to seeing you!
The Storgård Café is open Monday–Saturday 10.00–21.00. On Sundays we are open 13.00–20.00. 
Accommodation
We have 16 historic bedrooms, each uniquely decorated and with its own atmosphere, offering a great place to stay overnight. Each of the rooms is named in honour of the building's former use as a local government building.
Eggedal Borgerstue is the ideal place to stay before or after tackling the Madonnastien Trail.
Bestemors Loft
The hotel also features our own homeware store – Bestemors Loft – where you can find hidden antique treasures or brand-new products for your home from well-known suppliers.